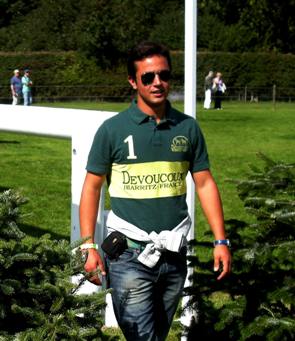 Daniele was born and grew up on the outskirts of Turin, Italy. His mother rode at a local stable and it was here, at 9 years old, that Dan caught the riding bug. A few years later he was to meet the horse 'Fair and Square' that would give him his first taste of Eventing and took Dan to CCI*. Unfortunately here Daniele also experienced the lows of equestrianism when his ride's old tendon injury resurfaced and 'Fair and Square' was retired to the paddock.
He continued to ride other horses and spent a year riding pure Dressage with Grand Prix rider Ester Soldi. Eventually he came across a young skinny thoroughbred with a penchant for unseating the rider. Maybe enjoying the prospect of a challenge, Dan bought his first horse and began to produce Dictus as an eventer.
In 2007, in the midst of studying Graphic Design at university, Dan met Alberto Bolaffi, an Italian stud owner. Mr Bolaffi offered to base Daniele at his gorgeous Il Quadrifoglio Country Club to produce and compete all of his horses. Opportunities like that don't come every day, especially in Italy, and so Daniele took the plunge into professional riding and has never looked back.
Alongside his work at Il Quadrifoglio, Dan competed in show jumping. His most notable jumper was Susanna Macco's Quick Boy Om who came to Dan napping and with a difficult mouth. Quicky took a little bit of time and a lot of patience but Daniele's natural ability to get the best out of his rides saw Quick Boy back on the circuit and shooting up from 1m to 1.35m within the year, including placings at his top level.
Not content with just this on his hands, Daniele shared a yard where he took on some sales liverys. The skinny thoroughbred 'Dictus' bought years before proved to fearless in cross-country, and what he didn't possess in natural ability in dressage, he made up for in his effort. The partnership was to be a long and successful one and in 2009 Daniele finished 11th in the Senior Italian Championships in the CIC*** in Cameri. And the bronking... Well thats just saved for special occasions when Dan's mother rode.
Searching for new challenges, Daniele made the move to England in January for the 2011 season to work as a rider for William Fox-Pitt. This has proved to be an invaluable experience for him, from learning how William's outstanding Head Groom, Jackie Potts, manages the horses to how William makes every mark count riding a meticulously precise dressage test.
Immersing himself in Britain's equestrian culture, Daniele's dedication to succeed in Eventing has led him to the move to his own yard and the continuation of an ambitious journey to the top.
In 2014 Dan won the ROR ELITE EVENTING CHAMPIONSHIP AWARD with the ex race horse Squadron Leader owned by Jane Arnold.