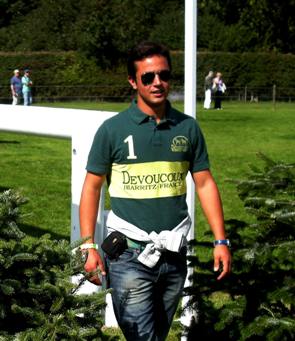 Daniele was born and grew up on the outskirts of Turin, Italy. His mother rode at a local stable and it was here, at 9 years old, that Dan caught the riding bug. A few years later he was to meet the horse 'Fair and Square' that would give him his first taste of Eventing and take him to CCI*. Unfortunately an old tendon injury resurfaced and 'Fair and Square' was retired to the paddock.
Continuing to ride other horses, Dan spent a year in pure Dressage with Grand Prix rider Ester Soldi and purchased a thoroughbred, Dictus, to produce as an eventer which was to be the beginning of his affinity with this particular breed.
In 2007, whilst in the midst of studying Graphic Design at University, Dan met Italian stud owner Alberto Bolaffi who offered his gorgeous Il Quadrifoglio Country Club as a base for Dan to produce and compete his horses. Dan took the plunge into professional riding and has never looked back.
Alongside his work at Il Quadrifoglio, Dan also competed in pure showjumping, most notably with Susanna Macco's Quick Boy Om who moved up from 1m to 1.35m under Dan's sensitive handling. As for the project first purchase thoroughbred, the partnership with Dictus proved to be a long and successful one; in 2009 the pair finished 11th in the Senior Italian Championships CIC-S**** in Cameri.
A move to England in January for the 2011 season saw Dan working as a rider for British eventing legend William Fox-Pitt. An invaluable experience, learning from one of the most successful British event riders of all time, and from his outstanding Head Groom, Jackie Potts.
Since leaving William, Dan has made the Gloucestershire/Oxfordshire area his base from where he competes for a number of loyal owners and teaches a wide range of abilities.
In 2014, Dan won the RoR Elite Eventing Championship Award with the former racehorse Squadron Leader, owned by Jane Arnold. With his passion and empathy for this breed, Dan continues to work closely with the Retraining of Racehorses charity, offering training and teaching at camps.
On the British Eventing circuit, Dan produced Piero Prinetti's Vallera del Ferro to CIC-S**** and this year has a selection of rides, ranging from intro level to Intermediate.